For the Glory of the Rose!
We are the Order of the Rose, the Company of period rapier fencers in Terrasylvae. The rose is our company symbol and represents the values we as a group share as well as our own personal values that we are willing to uphold in this world.
Grab a Sword!
As a rapier combat group, we are striving to keep historical fencing alive and promote the positive values of swordsmanship. We believe those values to be Safety, Honor, a Positive Attitude, and doing all we do with Skill. We try to promote these attributes on and off the field. We hope to strengthen individuals and our community by using the skill of fencing to build strong swordsmen who in turn will pass on the lessons they learn and benefit our communities in safe, honorable, positive, and skillful ways.
Fencing is also a ton of fun! It is a fast-paced, mentally engaging sport that has a long and rich history. We enjoy practicing this ancient art in an updated and lively way.
We would love to have like-minded people join our group! We meet every Friday from the first week in March to the last week in October, at 5:30 PM, in Woodland Park, in Farmington UT. Each week, on Wednesday, we post on our website the event plans for the week. Please check out our events, bring a pair of good gardening gloves with long cuffs, and come see us on your next free Friday. We will be happy to gear you up, put a rapier in your hand, and teach you everything we know about this fascinating sport.
---
Our Officers corps
Shayen Locke
captain
---
How to Reach Me: Band/Website

Hi, my name is Shayen Locke, and I am the Captain of the Order of the Rose. When I was a little girl I played with homemade toy swords and dreamed of adventure! I loved stories from Arthurian legend, Robin Hood, the Black Fox, Zorro, and the Scarlet Pimpernel. I was lucky enough to be introduced to Terrasylvae, and the Order of the Rose right after graduating High School. They took me in, taught me to fence, and I've been living the imagined adventures of my childhood ever since. I am now a happily married wife, the mother of two delightful kids, and the human slave of two disdainful cats. I like to read, walk, juggle, and play board games (a ridiculous amount of them). I have been fortunate enough to be the Captain of the Order of the Rose since 2019, and I look forward to the future of our Company with hope and enthusiasm.
Evanlyn
Lieutenant
---
Hello, I'm Evanlyn Stewart! I grew up having lightsaber fights with my family and watching movies like Star Wars, Lords of the Rings, Princess Bride, and many more fantasy movies. I was introduced to the Order of the Rose in 2012. It has been a dream come true! Going on adventures, learning the art of the blade, and making friends that have become a second family to me. Many of my siblings have joined the company and I even met my husband, Edward, through the group. When I'm not sword fighting, I enjoy reading, watching movies, sewing, doing art, and cross-stitching.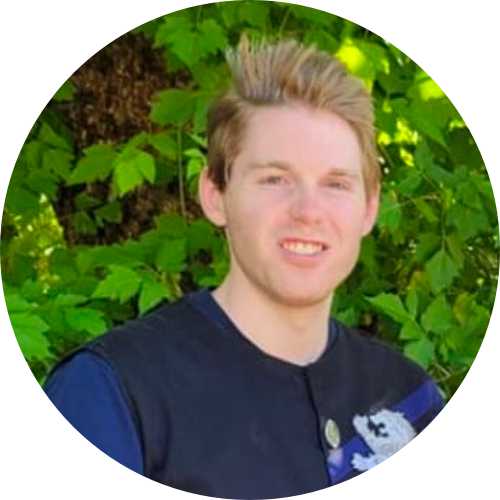 Edward
Lieutenant
---
Hi! I'm Edward. Since lightsabers aren't real, I fence. I joined Order of the Rose in 2017, married my wife and fellow fencer in 2018, and have been loving every minute since! I also enjoy LEGO, aerospace, geology, and basketball.