Camping has been part of Terrasylvan history since the beginning of our group, and they are one of the best ways to bond and create stories to share amongst the members. We're excited to continue that tradition by heading back to Willow Flats! Hopefully, by going in July instead of June we can avoid another Willow "Frost".
Let's cover some of the basic details:
How Much Does It Cost?
To help cover the cost of a big group campsite this year, there is a camp fee as follows:
For Shire Members: $5 per day (W/Th/F)
For Non-Shire Members: $10 per day (W/Th/F)
Saturday is free
Family Cap is double
If you have any questions or concerns about fees, please reach out to Damian.
Is There a Meal Plan?
Yes! Damian is planning on providing an optional Meal Plan for people to buy into. He is offering it as follows:
$5 for each Dinner and Breakfast
$3 for each Lunch
$36 for the Full Plan (3 Breakfasts, 3 Dinners, & 2 Lunches)
Full details of the meal plan will be provided soon, but if you are interested in joining the Meal Plan, please let Damian know how many meals you will take part in before July 27th. He will need to know before he buys any food. Is camp kitchen will be available for you before and after general meals, if you would like to cook something your self.
As an added note: If you'd like to help with providing any of the meals for meal plan, please contact Damian.
What Should I Bring?
Anyone who is coming should come prepared to spend several nights in the woods. Temperatures can fluctuate drastically, so pack for cold nights and warm days. You can download the checklist below to help make sure you have everything you need.
What Activities Are We Doing?
Because we have a group site, we are excited to say that we have space to fence this year. We will also have dancing and games along with other activities like hiking and telling stories. Bring your fencing gear and bring some garb so you can participate to the fullest of a Terrasylan Camp out. If there are other activities that you would like to do, please let us know and we can discuss their possibility.
How Do I Get There?
On the morning of July 29th, we'll gather at Damian's home in Farmington (reach out if you need the address), to pack up cars and then caravan together up to the campsite. Our goal is to leave at around 10am so we can arrive around noon. If you need a ride, we can help to find you a seat in the caravan. If you're not able to join in the caravan, directions are listed below.
Click here for written directions starting at Woodland Park
Get on I-15 N from Main St and Park Lane
Head north on E 200 S toward 200 E
Turn left onto S 200 E
Continue onto 185 E
Continue onto E State St
Turn right onto Main St
Turn left onto 675 N/Park Lane
Turn right to merge onto I-15 toward Ogden
Follow I-15 and US-91 to UT-252 N in Cache County
Merge onto I-15 N
Take exit 362 for 1100 S St toward US-91/US-89
Keep right at the fork, follow signs for Brigham City/Perry/Logan and merge onto US-91 N/W 1100 S
Turn left onto UT-252 N
Follow US-91 N to E Cub River Rd in Franklin County
Use the left lane to turn left onto Main St
Continue straight onto US-91 N/Main St (Entering Idaho)
Turn right onto E Cub River Rd
Turn right to stay on E Cub River Rd
Continue onto Forest Rd 448
Turn Right (Destination will be on the right)
Click here to see which site specifically are we at?
We've reserved Group Site #3. Keep a look out for the Shire Banner.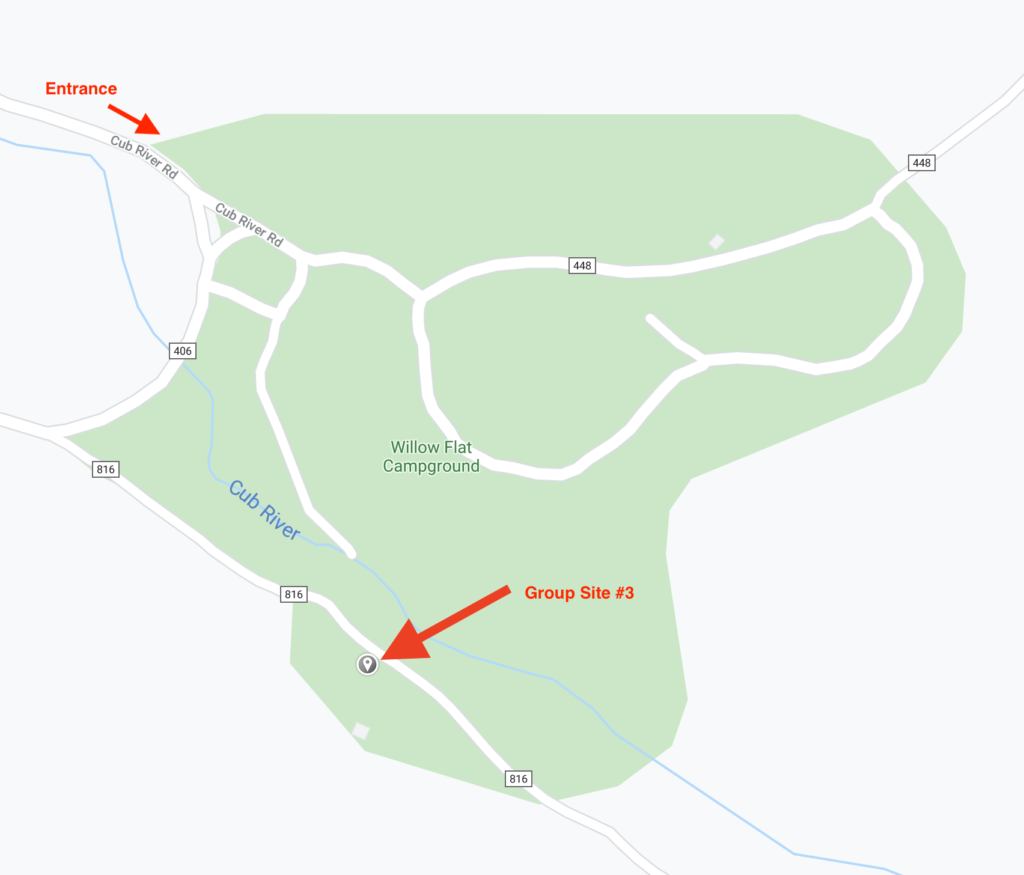 Google Map